Mobile Schooling Limited started off as the "A Step Further to Achieve Higher: Mobile Schooling Project" under the Faculty of Education, The Chinese University of Hong Kong in 2012. It has become an independent non-profit organization since 2015. It has become a non-profit charitable organization since 2016. (IR File No.: 91/14491)
"All students should share equal outdoor learning opportunities but some children
have less opportunities in outdoor learning because of the financial burden incurred."
Our core program – "Mobile Classroom" – invites university students working regularly as mentors with needy secondary school students throughout a school year by engaging them in a series of outdoor learning experiences.
Each year, new university student volunteers, secondary school students and students with visual impairment are recruited.
The outdoor learning opportunities establish a strong link to the high school Liberal Studies curriculum.
Our programs put the "invitational approach" of education into practice. The core values of this approach are respect, trust, optimism, intentionality and care.
In our fourth year (2015-16), we expanded the scope of service and became more inclusive. Nearly 100 secondary school students were recruited, including ethnic minorities and students with visual impairment.

Our Statement:
A Step further to achieve higher!
Outdoor learning opportunities for everyone
Our Vision:
To advance outdoor education and experiential education for the development of whole persons in Hong Kong.
Our Mission:
To develop and provide learning materials, resources and curriculum to students, parents, teachers, schools, colleges, universities, communities and the general public.
Our Spirit & Values: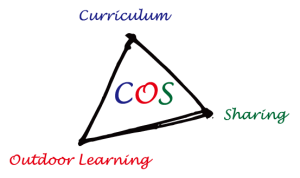 C: Curriculum (e.g.: General studies for primary schools, Liberal studies for secondary schools)
O: Outdoor Learning
S: Sharing & Service